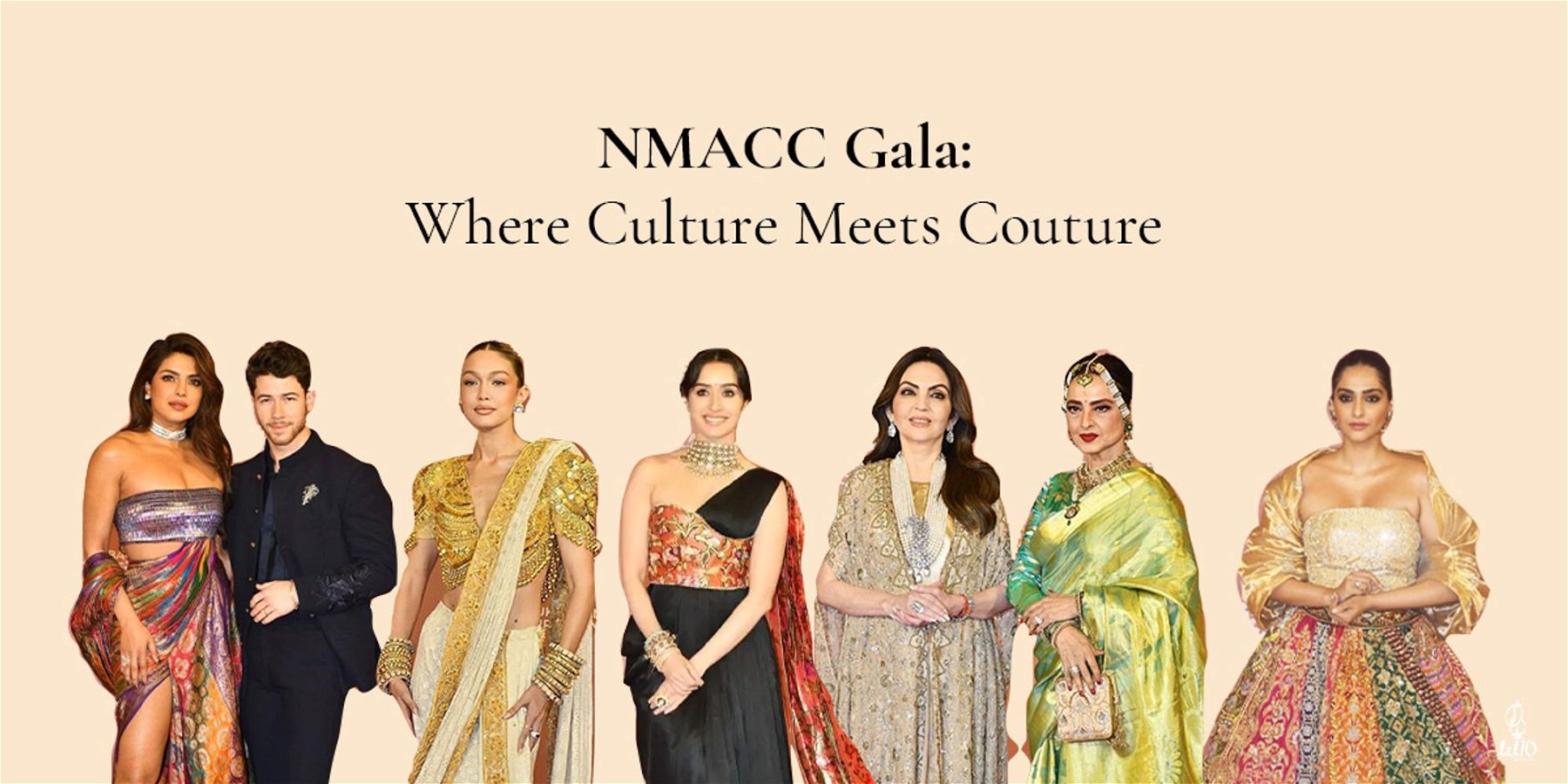 Are you ready to witness a fashion extravaganza where couture meets culture? Look no further than the Nita Mukesh Ambani Cultural Centre (NMACC) Gala, an event that brought together Bollywood and Hollywood celebrities draped in stunning vintage crafts. NMACC is India's first-of-its-kind cultural space, offering a multitude of performing arts including music, theatre, fine arts, and crafts.
From Chikankari silhouettes to pre-draped Banarasi georgette sarees, the NMACC Gala was a visual treat, showcasing the beauty and versatility of traditional Indian craftsmanship. Get ready to be swept away by the fusion of cultures and styles at the NMACC Gala.
Traditional crafts in contemporary silhouettes
The NMACC event, 2023 was a star-studded affair, with numerous celebrities attending the event. The designers redefined the modern fashion landscape by blending the old with the new to create stunning and innovative fashion pieces that are both timeless and contemporary.
Along with showcasing their support for traditional crafts, these high-profile attendees turned heads with their unique outfits, many of which are inspired by traditional craft techniques. From Sonam Kapoor's  multi-colored, archival ensemble to Gigi Hadid's stunning chikankari saree, the event showcased how traditional Indian crafts are being embraced and incorporated into contemporary fashion by both Indian and international celebrities.
Theme of NMACC 2023
The NMACC was established to display the sensory journey of India's rich cultural history through costume, performing and visual arts.The event's theme was 'The Great Indian Musical: Civilisation to Nation.'
The NMACC was established to display the sensory journey of India's rich cultural history through costume, performing and visual arts. It is located within the Jio World Centre in the Bandra-Kurla Complex in Mumbai, popularly known as the city of dreams. The marvellous infrastructure includes a 2000 seating capacity grand theatre, a 4-storey art house, a Pavilion – a museum-like convertible area of 52,627 sq. ft for art shows and exhibitions, and a studio theatre.
Celebrities and their outfits at NMACC Gala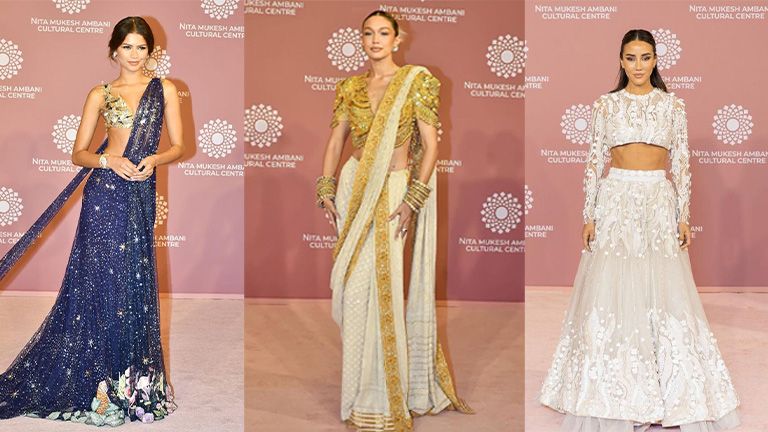 Zendaya stuns in a custom starry sari
American actress Zendaya graced the pink carpet at the NMACC Gala in a one-of-a-kind sari designed by
Rahul Mishra
. The hand-
embroidered
'Verdure' sari gown features a 'Flying Cranes' bralette and intricate star-themed designs, resembling a midnight sky. The sheer violet sari, straight off the runway, was further embellished with floral
applique work
and shimmering star-shaped sequin patterns, with the pallu forming a train at the back. Zendaya's stunning appearance made her a standout among the sea of Bollywood and Hollywood celebrities attending the day 2 rollout of the NMACC Gala.
Priyanka Chopra dazzles in "upcycled vintage with a modern twist" at NMACC Gala with Nick Jonas
Priyanka Chopra and Nick Jonas made a stunning appearance at the NMACC Gala, with Chopra donning an "amalgamation of the east and the west" outfit designed by
Amit Aggarwal
. Chopra took to Instagram to share the details of her outfit, which was crafted using a vintage
Banarasi patola sari
with silver threads and gold electroplating on khadi
silk
. The sari was paired with a sequins sheet holographic bustier, reflecting the nine colours of the ikat weave that the brocade is set in.
Gigi Hadid stuns in Abu Jani Sandeep Khosla Chikankari sari
Gigi Hadid made heads turn as she arrived at the NMACC Gala in a stunning two-piece sari designed by Abu Jani and Sandeep Khosla. The ensemble featured a gold-embellished top and a flowing ivory skirt with intricately-designed gold patti borders and a thigh-high slit on the side. The brand shared the details of Hadid's custom Chikankari sari on their Instagram story, causing a stir among fashion enthusiasts.
Kriti Sanon's Banarasi Sari Shines at NMACC Gala
Kriti Sanon turned heads in a stunning
Banarasi sari
at the NMACC Gala. The black fabric was adorned with intricate gold designs that perfectly matched her earrings and rings, creating a cohesive look. The sari, designed by
Monisha Jaising
, featured a halter strap that looped across the actor's shoulder, as well as a high slit and a draping cape, giving her a regal appearance. Jaising shared a glimpse of the ensemble on her Instagram, further fueling the excitement among fashion aficionados.
Sonam Kapoor stuns in multi-colored, 35-year-old archival ensemble
Sonam Kapoor made heads turn in a custom-made ensemble by
Abu Jani Sandeep Khosla
at the NMACC Gala. The outfit, made up of 20 embroidered panels, showcased designs from the past 35 years. The outfit featured a hand-
embroidered
jacket with mirror detailing, a Swarovski corset, and a multi-colored lehenga skirt. Kapoor also took to Instagram to express her gratitude to Abu Jani Sandeep Khosla for being the first fashion house to dress her for an event.
Rekha Stuns in Mint Green Kanjeevaram Silk Saree
The veteran actor, known for her love of traditional six yards, dazzled in a mint green and turquoise Kanjeevaram silk saree at the NMACC Day 2 Gala. Rekha paired the stunning saree with a matching full-sleeved blouse featuring floral
brocade patterns
.
Shraddha Kapoor impresses in black statement saree paired with Kalamkari print
Shraddha Kapoor opted for an eye-catching black saree that came with a pre-draped silhouette, a
Kalamkari print
bustier blouse, and a long matching pallu at the back.
NMACC
NMACC Gala was one of the most highly anticipated events of the year. On March 31, the centre held its official formal inauguration, followed by day two of the rollout on April 1. The event was attended by a number of high-profile celebrities including Rekha, Zendaya, Gigi Hadid, Disha Patani, and Suhana Khan.